Where better to take new passengers in a wild trip throughout time, than the dawn of history? With a brass band backing announcing impending doom, the Doctor and his party are unconvincingly captured by a dirty and rag – tag tribe who are trying to rediscover the secret of fire.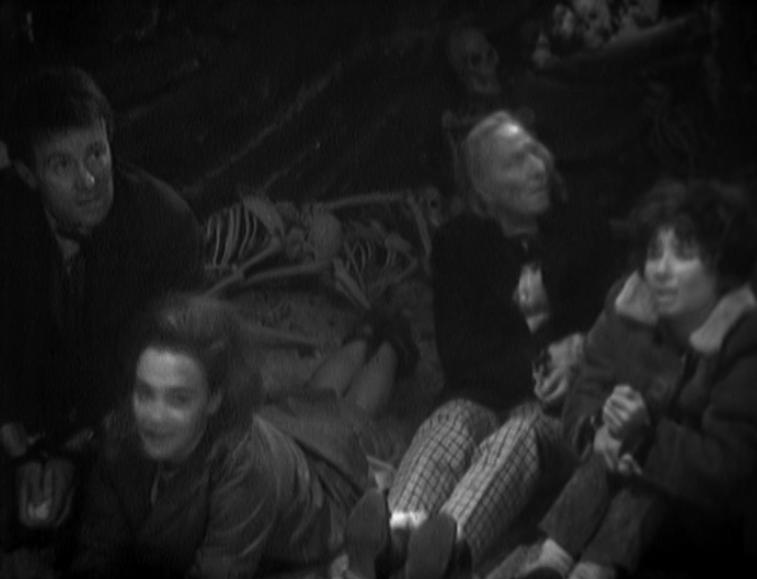 The Skull of the Caves opens with Zaw, the son of the tribes old chief attempting to rub a leg bone to make fire while he is overlooked by his entire tribe. Atop this, an old crone adds her cynical two cents worth. With that sort of pressure, its no wonder he has issues.
Back at the Tardis, The Doctor, in true form, needs to explain that they have traveled back in time but is confused with his 'time-ometre' and other gadgets which don't seem to be co-operating.
The gang wander out onto a classic BBC low budget set, filled no doubt, by local sand and rocks.
The first "Doctor Who?" is played out a few times in a subtle manner, whilst everything else is over dramatic and theatrical – especially Susan's reaction to the Doctor being captured.
Meanwhile, back at the tribe, political unrest boils as Kai, a newcomer to the tribe, has promised he will make fire if he is made the leader.  he returns with the Doctor over his shoulder.  The tribe become nervous at the arrival of all of the travellers, while the old woman urges villagers to kill them.
The four travellers find themselves shoved into the back of a cave with skulls which have been slip precisely in half.
Although a fairly uninspiring episode, it allows viewers to glean more information about the Tardis and despite the Doctor being an alien with a fantastic machine that can travel through time, he hasn't quite managed to control it.
To the modern viewer, its clunky and over dramatic, but put it into perspective, when the episode was first screened on 30 November 1963, it was watched by 5.9 million viewers.
Its easy to forget the advances modern filming and set design has had since these early days; so stay with the series – we all know how awesome it ends up!
Image  of travellers in back of cave via Wiki
«